Who We Are
The Fetal Alcohol Syndrome Society Yukon (FASSY) is a non-profit organization dedicated to fostering accepting and educated communities, where individuals with FASD have equal access to opportunities to reach their full potential. If you would like to learn more about who we are and what we do, please see About FASSY.
Our Mission Statement
To foster informed, inclusive and nurturing communities that work together to prevent FASD and to support individuals affected by FASD.
Our Vision
FASSY envisions a Yukon in which Fetal Alcohol Spectrum Disorder is prevented and where persons with FASD are fully included in Yukon society.
What is FASD?
Fetal alcohol spectrum disorder (FASD) is a diagnostic term describing the constellation of effects that result from prenatal alcohol exposure. FASD describes a range of effects - physical characteristics, brain changes and health problems that can range from mild to severe. If you would like to learn more, please see What is FASD?
FASD Resources
FASSY has compiled some of the best websites, research links, FASD news and support resources available. Please see our FASD Resources page.
If you are looking for a list of FASD Diagnostic Clinics across Canada, please see our Diagnostic Clinics page.
Bill It Forward!
FASSY, along with Bill's family, have created a support fund for people living with FASD.  This fund has been created in Bill's memory to honor him and his desire to help others. The support fund called "Bill it forward" will help individuals who wish to pursue a program or educational opportunity (academic, artistic or other); obtain job-related assistance (resume development, bus pass and/or other); or require emergency assistance (food, housing and/or other).
If you wish to donate, please contact the FASSY office at 867-393-4948 or donate through Canada Helps.

Out and About Program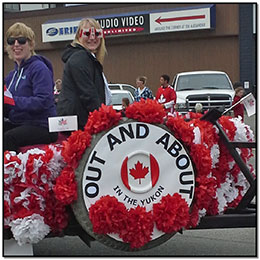 Four NGOs (FASSY, OFI, TOZ and Inclusion Yukon) have come together on an initiative for individuals across all disabilities to partake in a number of activities throughout each month. For more information, contact Neha (coordinator): Phone: 867-332-4478. Email: outandabout@fassy.org or check out our calendar to see what this program is up to: Calendar of Events. Thank you to the Mental Wellness Innovation fund for allowing us to develop this program. We continue to be funded under YG - HSS and the FASD interagency advisory committee.