September is FASD Awareness Month
International FASD Awareness Day is September 9th
Fetal Alcohol Spectrum Disorder (FASD) is a lifelong disability that affects the brain and body of people who were exposed to alcohol in the womb. Each person with FASD has both strengths and challenges and will need special supports to help them succeed with many different parts of their daily lives
Honouring Yukon FASD Leaders
FASSY is very proud of the work we have accomplished, in partnership with many others in the community, to raise awareness, promote prevention and support people with FASD. We are very fortunate to have had many strong leaders over the years who have worked, often behind the scenes, to support FASSY.
We are very pleased to announce that we are celebrating International FASD Day 2021 by installing our first ever "wall of honour" to acknowledge our FASD leaders. A picture and short write up of each leader will be framed and hung on the wall. We intend to add to this wall of honour each year.
This year we are paying tribute to three strong and committed Yukon FASD leaders who have done so much to support FASSY over many decades: Judy Pakozdy, Ione Christensen and Larry Bagnell.
Judy is a long-time nurse and adoptive mom who has strongly advocated for FASD at the local, territorial, and national level. She is a founding member of FASSY and served as the Executive Director for almost 10 years. She and her son Matthew are sought after as speakers at FASD conferences around the world.
Larry has been a long-term friend and ally of FASSY, regularly showing up to our fundraising and awareness events. As the Yukon MP, Larry worked hard on a Private Members' Bill to amend the Corrections and Conditional Release Act to acknowledge the needs of people with FASD in the criminal justice system. He attended many conferences and events to raise awareness and understanding of the lifelong impacts of FASD on individuals, families, and communities.
Ione offered to take on FASD as a national issue when she was a Senator. She attended many committee meetings and was a tireless advocate for FASD during her term as a Senator. After retiring, she joined the Board of FASSY and served as the Chair for many years, filling in as the Executive Director on at least two occasions. Now in her late eighties, Ione continues to be a strong advocate for FASD.
FASSY is incredibly grateful for the dedication, focus and passion that each of these three leaders contributed to our work over many years. We are stronger and better for their leadership.
We look forward to hosting an in-person celebration later this year, COVID-19 permitting.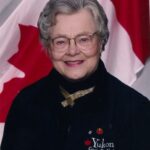 IONE CHRISTENSEN
Ione recalls attending the Prairie Northern Conference on FASD in Whitehorse in 2002, not long after she was appointed to the Senate. At that meeting, she asked if they would like her to take on FASD as a national issue, and they happily accepted. Ione was no stranger to FASD, as she had served as both a Juvenile Court Judge and a Justice of the Peace in the early 1970s, where she often encountered people with FASD. Ione also served as the Executive Director of the Alcohol and Drug Treatment Centre in the 1990s. Ione spent the last four years of her Senate appointment educating and raising awareness about FASD and lobbying for funding and policy supports. Ione quickly came to understand the lifelong impacts of prenatal drinking on the developing brain, the need for prevention supports, as well as the need for ongoing supports for people living with FASD. After Ione retired from the Senate in 2006, she continued this commitment by joining the Board of FASSY. Ione served on the Board for many years, as a director and as the Chair. She also stepped into the role of Acting Executive Director on two different occasions. Ione was a strong and effective Chair, and during this time she continued to be a strong advocate for FASD at both the territorial and national levels.
Ione firmly believes that FASSY makes a big difference in the lives of people with FASD through its outreach work and daily supports. She knows that each person with FASD is unique, with diverse strengths and needs, and is proud that FASSY continues to meet each person where they at in determining how best to provide supports. Ione sees the difference research has made at both the policy and practical levels and encourages further research into all aspects of FASD – prevention, supports, funding, and policies. Ione highlights the need for more evaluation to determine the effectiveness of all the programming delivered.
Ione states that FASSY could never be where it is today, with all the great work it has done, if it were not for the dedication and hard work of the staff who are there each day. You make the difference - THANK YOU.
JUDY PAKOZDY
Judy was the Head Nurse on the pediatric ward at the Whitehorse General Hospital in 1972. She had been on the job for just two weeks when she met Dr. Kojo Asante, a pediatrician who was here on holidays – through his work he had met Dr. Stirling Clarren and had become familiar with what was then called Fetal Alcohol Syndrome. Dr. Asante served as a visiting pediatrician for eight years and Judy worked alongside Dr. Asante on the children's ward and in his 1985 Yukon study on FASD in the Yukon. Through this work, and the pictures of children with FASD provided by Dr. Asante, Judy realized that she had, in fact, been working with critically ill children who had undiagnosed FASD in Toronto. Judy was present at the births of many children affected by prenatal drinking during her career as a nurse. Judy also had her heart stolen by a tiny little girl who had first been identified as a "preemie" but who was quickly diagnosed with FASD by Dr. Asante. This little girl lived on the children's ward for fourteen months as everyone thought she was going to die. Judy ended up taking this little girl home for visits for some time until she was adopted. Judy then applied to adopt, and specifically requested a child with FASD. Since adopting her son Matthew, Judy has been a strong and informed advocated for FASD at the local, territorial, and national levels. Judy and Matthew have presented together at many conferences and FASD events.
Through her experiences as both an adoptive mother and a nurse, Judy continued to learn and speak about FASD. Dr. Asante was continuing to diagnosis children with FASD, and policy makers were beginning to understand the need for ongoing supports and services. Judy was often asked about best ways to prevent people with FASD from becoming involved in the justice system, and she could speak passionately about the demands of parenting her son with FASD, and her very real fears for the future.
In the mid 1990s, Judy and other FASD advocates started the Alcohol Related Birth Defects Subcommittee of what was then the Yukon Association for Community Living (YACL), with some funding provided from the YACL family inclusion fund. FASSY was created as a separate not-for-profit society in 1996. Once Judy retired, she was hired as the ½ time Director and worked from space provided at YACL. The focus in those early days was on prevention and for five years, a major initiative was the distribution of prevention bags, with the logo designed by April Buffalo Robe. Judy served as the Executive Director of FASSY from 1996-2008. Further supports and services were added. Some of the big projects supported by FASSY during those years included: Child Development Centre support, "With a Little Help" From my Friends – a project designed to focus on peer supports but confirmed the importance of support workers, and the evening activity program organized with CAIRS and the Salvation Army located at the Salvation Army Building, which supported productive use of time and cultural activities.
While Judy is very proud of the work of FASSY, she cautions that we can never become complacent and must always be prepared to advocate for the people we serve. This advocacy includes lobbying for funding and continuing to support people so that their time can be used productively. It is also very important to expand the support for families of people with FASD and to keep learning from the lessons of the past.
LARRY BAGNELL
Larry has had extensive involvement with many community issues – he chose to become involved with FASD for four reasons: it is an invisible and hidden disability and this means people with FASD are often not understood, It is a lifelong condition that affects many aspects of daily life, FASD is a condition imposed on people by external factors, not by any choices of their own, For many people with FASD, they need help lobbying for themselves.
Larry has been a big supporter of FASSY over the years, and he has attended many FASSY meetings as well as the International FASD conference in Vancouver and others. He has also helped with many fundraising efforts.
His biggest contribution was his support of Private Members' Bill C-235 - An Act to amend the Criminal Code and the Corrections and Conditional Release Act (fetal alcohol disorder). The Bill focused on assessments for FASD in the criminal justice system, as well as ensuring that support plans for reintegration were required. While this Bill did not pass, it did receive a great deal of support and discussion across all parties in Canada and confirmed the importance of addressing FASD within the criminal justice system across Canada.
Looking to the future, Larry encourages continued efforts at public education to promote greater understanding of FASD and the required supports. He believes that when citizens organize around issues of importance to them, momentum builds and things get done. Larry has been greatly impacted by the personal stories of people living with FASD and he believes it is important to keep telling these stories. He also thinks research is important, and that more data on the numbers of people affected with FASD is critical to good public policy
Collaboration is the Key to Successful Support.
Wenda Bradley, Executive Director, FASSY.
Who We Are
The Fetal Alcohol Syndrome Society Yukon (FASSY) is a non-profit organization dedicated to fostering accepting and educated communities, where individuals with FASD have equal access to opportunities to reach their full potential. If you would like to learn more about who we are and what we do, please see About FASSY.
Our Mission Statement
To foster informed, inclusive and nurturing communities that work together to prevent FASD and to support individuals affected by FASD.
Our Vision
FASSY envisions a Yukon in which Fetal Alcohol Spectrum Disorder is prevented and where persons with FASD are fully included in Yukon society.
What is FASD?
Fetal alcohol spectrum disorder (FASD) is a diagnostic term describing the constellation of effects that result from prenatal alcohol exposure. FASD describes a range of effects - physical characteristics, brain changes and health problems that can range from mild to severe. If you would like to learn more, please see What is FASD?
FASD Resources
FASSY has compiled some of the best websites, research links, FASD news and support resources available. Please see our FASD Resources page.
If you are looking for a list of FASD Diagnostic Clinics across Canada, please see our Diagnostic Clinics page.
Bill It Forward!
FASSY, along with Bill's family, have created a support fund for people living with FASD.  This fund has been created in Bill's memory to honor him and his desire to help others. The support fund called "Bill it forward" will help individuals who wish to pursue a program or educational opportunity (academic, artistic or other); obtain job-related assistance (resume development, bus pass and/or other); or require emergency assistance (food, housing and/or other).
If you wish to donate, please contact the FASSY office at 867-393-4948 or donate through Canada Helps.

Out and About Program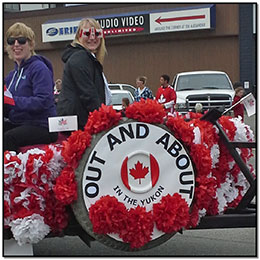 Four NGOs (FASSY, OFI, TOZ and YACL) have come together on an initiative for individuals across all disabilities to partake in a number of activities throughout each month. For more information, contact Julie (coordinator): Phone: 867-332-4478. Email: outandabout@fassy.org or check out our calendar to see what this program is up to: Calendar of Events. Thank you to the Mental Wellness Innovation fund for allowing us to develop this program. We continue to be funded under YG - HSS and the FASD interagency advisory committee.